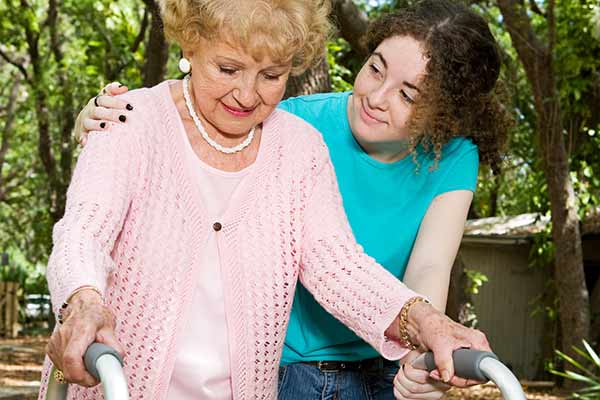 Unge undgår depression ved at hjælpe andre
Lær dit barn hvor dejligt det kan være at give - gaver eller hjælp -  så har du måske garderet ham eller hende mod fremtidig depression.
Teenagere bliver nemlig sjældnere depressive, hvis de finder glæde i at give - eksempelvis penge til familiemedlemmer.
Det viser en undersøgelse offentliggjort i Proceedings of National Academy of Sciences, hvor forskere fortæller, at 15-16 årige, der finder glæde i pro-sociale aktiviteter er mindre tilbøjelige til at blive deprimeret end dem, der får et større gys af at tage risici eller som holder pengene for sig selv.
Undersøgelsen fokuserede på det ventrale striatum, der er et område af hjernen , der regulerer følelser af glæde som reaktion på belønninger. Tidligere forskning har vist, at aktiviteten af hjernens ventrale striatum er mere udtalt i ungdomsårene, hvilket tyder på, at teenagere oplever belønninger mere intenst end yngre børn eller voksne.
"Ungdomsårene er også en tid med øget risikovillighed, der kan være relateret til unges øgede følsomhed over for belønninger," siger undersøgelsens chefforsker psykologiprofessor Eva Telzer.
"i overgangen fra barndom til ungdom stiger dødeligheden med 200-300 procent og det skyldes næsten udelukkende denne risikoadfærd," siger hun.
Depressive symptomer har også en tendens til at stige i løbet af denne tid, understreger hun.
Ved hjælp af en funktionel hjernescanning (fMRI), målte forskerne aktiviteten i hjernens ventrale striatum hos unge, der løste opgaver, som bestod i enten at give penge til andre, beholde pengene eller tage risikable finansielle beslutninger i håb om at få en belønning.
Afslørede depressionsrisiko
Holdet testede desuden forsøgspersonernes depressive symptomer i begyndelsen og i slutningen af et år.
Forskerne konstaterede, at aktiviteten i hjernens ventrale striatum som reaktion på forskellige belønninger kunne forudsige om deltagernes depressive symptomer vil forværres eller blive mindre med tiden.
"Hvis deltagerne havde højere niveauer af belønningsaktivitet i hjernens ventrale striatum, når de foretrak at tage finansielle risici, viste de også større tegn på depressive symptomer over tid," siger Telzer.
"Og hvis de havde højere belønningsaktivitet ved at løse pro-sociale opgaver, så havde de et fald i depression.
"Denne undersøgelse tyder på, at hvis vi en eller anden måde kan omdirigere unge fra risikovillighed eller selvcentrerede belønninger hen mod en mere pro-social adfærd, så kan det måske have en positiv indvirkning på deres trivsel over tid," siger hun.
"Tidligere undersøgelser har fokuseret mest på de negative resultater ved forhøjet aktivitet i hjernens ventrale striatum og risikovillighed i ungdomsårene," siger Telzer.
"De nye resultater viser, at aktivitet i den ventrale striatum også kan være positiv hos unge. Den sociale kontekst, som en ung person føler sig belønnet af kan betyde mere end følelsen i sig selv - i det mindste når det handler om hans eller hendes mentale sundhed og følelse af velvære på længere sigt," siger hun.
"Det spændende ved dette er, at det selv samme område af hjernen kan forudsige både negative og positive konsekvenser for trivselen," siger Telzer.
"Det afhænger af sammenhængen."
Tags: penge, depression, teenager, hjælpsom, ungdom, altruisme, belønningssystem, risikovillig