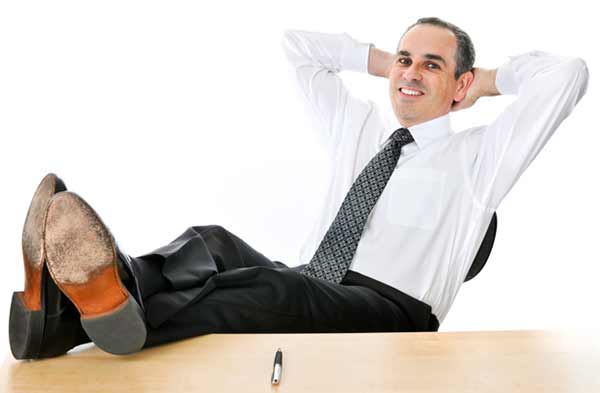 Sådan skal du ikke sidde i Asien
Kropssprog er ligesom almindelige sprog ikke universelt, men afhænger af samfundsnormer og kulturel baggrund.
Det viser en række undersøgelser, hvor forskere på tre universiteter gennemførte fire undersøgelser med mere end 600 mænd og kvinder født i USA eller Østasien for at undersøge den psykologiske oplevelse af påtrængende (i modsætning til stille) kropssprog.
De ekspansive stillinger, som var afprøvet i tidligere forskning, bestod af:
stilling 1: en person stående ind over et skrivebord med hænderne spredt placeret på bordet

stilling 2: en person med den ene ankel hvilende på det modsatte ben knæ og med den ene arm på armlænet og den anden hånd på skrivebordet

stilling 3: en person, der lænder sig tilbage i en kontorstol med fødderne på bordet og hænderne bag hovedet
"I fire undersøgelser evaluerede vi effekten af ​​de enkelte arbejdsstillinger i forhold til en tilbageholdende eller genert kropsholdning, hvor man f.eks sidder med hænderne under lårene eller står med armene viklet rundt om kroppen," fortæller undersøgelsernes chefforsker og psykolog Lora E. Park fra universitetet i Buffalo.
Undersøgelserne viste at stilling 3 blev opfattet af både amerikanere og asiaterne som den der var i mindst overensstemmelse med østasiatiske kulturelle normer om beskedenhed, ydmyghed og tilbageholdenhed. Men alligevel mente amerikanerne at stillingen gav en større følelse af magt og implicit aktivering af magt-relaterede koncepter, mens asiaterne ikke forbandt stillingen med magt.
Sammenlignet med en genert kropsholdning, førte den desuden til større risikovillighed blandt amerikanerne, men ikke blandt asiaterne. Efter at have siddet med fødderne på bordet i tre minutter, var amerikanske deltagere mere tilbøjelige til at vælge at tage skridt til at løse et problem eller en situation, som blev præsenteret for dem, mens samme stilling ikke havde effekt på de asiatiske deltagere.
Både amerikanere og asiater opfattede de to andre kraftfulde stillinger som mere magtfulde end de mere generte stillinger.
"Samlet set tyder disse resultater på, at kraftfuldt kropssprog har både universelle og kulturelt specifikke effekter på folks tanker, følelser og adfærd," siger Park.
»Nogle arbejdsstillinger, som den stående med hænderne på bordet og siddende med anklen på det andet knæ og en hånd på armlænet får folk på tværs af kulturer til at føle sig mere magtfulde. I modsætning hertil får stillinger, der overtræder kulturelle normer, som at lægge ens fødder på skrivebordet, ikke alle individer til at føle sig magtfulde," siger Park, der har fået undersøgelserne offentliggjort i Journal of Experimental Social Psychology.
"Det er den symbolske betydning af et kropsholdning snarere end kropsholdningen selv, der påvirker de psykologiske oplevelser af individer fra forskellige kulturer."
Tags: kultur, kropssprog, kulturforskelle, mødekultur