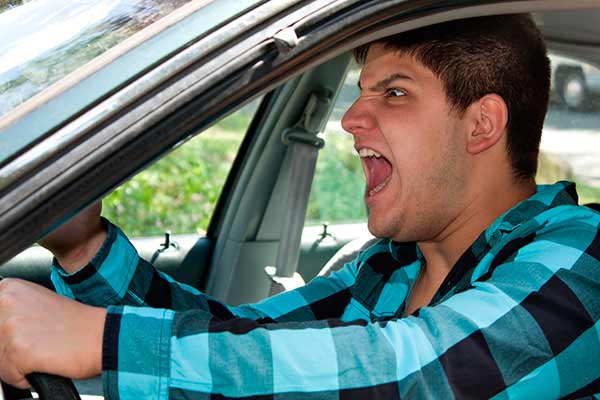 Agressive bilister har færre følelser
Har du nogensinde stået over for en aggressiv bilist i trafikken, så er det formentlig en person, der har en mindre følelsesmæssig hjerne.
Det antyder en ny undersøgelse, hvor forskere med hjernebilleddiagnostik har konstateret, at frontal limbiske regioner i hjernen, der regulerer følelser, spiller en vigtig rolle for aggressiv adfærd.
Resultaterne viser, at personer med intermitterende eksplosiv lidelse (IED) har signifikant mindre grå substans i disse frontallimbiske hjernestrukturer.
"Intermitterende eksplosiv lidelse er defineret i DSM-5 som tilbagevendende, problematisk, impulsiv aggression," forklarede Dr. Emil Coccaro fra University of Chicago og hovedforfatter på artiklen, som er offentliggjort i tidsskriftet Biological Psychiatry.
DSM-5 står for Diagnostic and Statistical Manual of Mental Disorders og er det amerikanske diagnose- og klassifikationssystem for psykiske forstyrrelser og de kriterier, der skal være opfyldt for at hver enkelt diagnose kan stilles. DSM-5 er den femte udgave.
"Selv om det er mere udbredt end bipolar lidelse og skizofreni tilsammen mener mange forskere, at impulsiv aggression simpelthen bare er "dårlig opførsel", der kræver en holdningsjustering. Vores data bekræfter dog, at IED, som defineret af DSM-5, er en hjernesygdom og ikke blot en forstyrrelse af personligheden."
Forskerne foretog MRI-scanninger af 168 forsøgspersoner, herunder 57 patienter med IED, 53 raske kontrolpersoner, og 58 psykiatriske kontrolpersoner. Holdet fandt en direkte sammenhæng mellem faktisk aggressiv adfærd og mængden af grå substans, der viser at den aggressive adfærd er forbundet med en ringere mængde grå substans.
Grå substans er en betegnelse for væv i centralnervesystemet, som det ses med det blotte øje.
Laver man et snit i hjernen vil man se områder med henholdsvis gråt og hvidt nervevæv. Det hvide væv kaldes tilsvarende hvid substans, der er farvet af  en overvægt af aksoner med myelinskeder, mens områder med overvejende cellekroppe er grå.
"På tværs af alle deltagere, blev en reduceret mængde grå substans i de frontallimbiske hjernestrukturer forbundet med øget aggressivitet," udtaler Dr. Cameron Carter, professor i psykiatri og adfærdsmæssige videnskaber ved University of California, Davis og redaktør af Biological Psychiatry:.
"Resultaterne antyder, at forstyrret udvikling af følelsesområde-regulerende kredsløb kan ligge til grund for en persons tilbøjelighed til vrede og aggression."