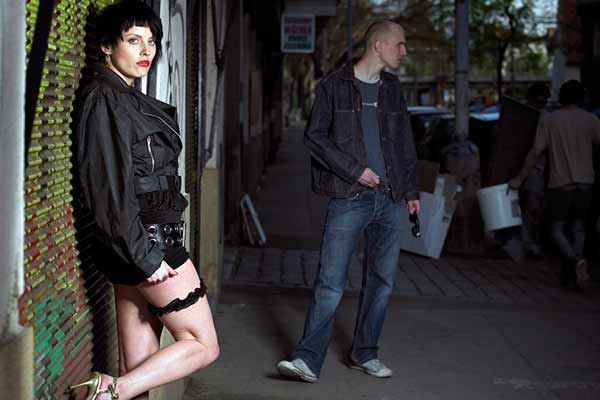 Sexkøbere er også oftere sexmisbrugere
Mænd, der køber sex har mindre empati for kvinder i prostitution end mænd, der ikke køber sex.
Det viser i hvert fald en ny undersøgelse offentliggjort i Journal of Interpersonal Violence, hvor forskere fra University of California i Los Angeles (UCLA) også fandt, at mænd, der køber sex, er mere tilbøjelige til at have begået voldtægt og andre aggressive seksuelle handlinger.
Resultaterne af undersøgelsen af ​​101 mænd i Boston-området, der erkendte at købe sex, viste, at deres opfattelse minder om sexmisbrugeres.
"Vores resultater viser, at mænd, der køber sex deler visse centrale karakteristika med mænd, der er i risiko for at begå seksuelle overgreb," siger Neil Malamuth, som er professor i kommunikationsstudier og psykologi.
"Begge grupper har en tendens til at have en præference for upersonlig sex, en frygt for afvisning af kvinder, en historie for at have begået seksuelt aggressive handlinger og en fjendtlig maskulin selv-identifikation. De, der køber sex, har i gennemsnit mindre empati for prostituterede kvinder og ser dem som væsensforskellige fra andre kvinder."
I andre undersøgelser, har ringe empati været forbundet med seksuel aggression mod kvinder.
Undersøgelsen giver et nyt perspektiv til debatten om det skal gøres ulovligt for mænd, at købe sig til sex. Forskerne mener i hvert fald at deres undersøgelse støtter den tanke, at prostitution minder om seksuelt misbrug.
"Vi håber, at denne forskning vil føre til et opgør med den myte, at sexkøbere bare er nogle seksuelt frustrerede pæne mennesker," siger Melissa Farley, der er undersøgelsens hovedforfatter og administrerende direktør for Prostitution Research and Education, som er en San Francisco-baseret organisation.
Taler for en svensk model
Undersøgelsens resultater er baseret på en sammenligning af de 101 sex-købere med 101 mænd, der ifølge dem selv aldrig købte sex.
Havde undersøgelsen ikke konstateret forskelle mellem sexkøbernes synspunkter og dem der ikke gør, kunne det have støttet dem, der går ind for legalisering og regulering af prostitution, siger Farley, der er ekspert i prostitution og menneskehandel.
"Men i betragtning af den betydelige forskel i seksuelt aggressive holdninger og adfærd, der findes hos sexkøbere, bør man overveje en retspolitik som den i Sverige og Norge, hvor prostitution opfattes som en aggressiv forbrydelse mod økonomisk og etnisk marginaliserede kvinder," siger hun.
"Den nordiske model arresterer sexkøbere, men afkriminaliserer kvinder i prostitution og giver dem mulighed for at komme ud af miljøet."
En mandlig sexkøber i undersøgelsen sammenlignede transaktionen med at smide en kaffekop ud efter at han var havde drukket færdig. 
"Når du er færdig smider du den ud," sagde han.
Artiklen fortsætter efter annoncen
En anden sagde om kvinder i prostitution: "Jeg tror at de mange gange føler sig nedbrudt. Jeg mener, dem jeg kender har ingen selvtillid, så de føler sig mindre værd som menneske og mere som en handelsvare."
Undersøgelsen bekræftede forudsigeligheden ved mange af de risikofaktorer for seksuel aggression, han har studeret de sidste 35 år. Han har udviklet en model, der kan karakterisere mænd, som har større risiko for at begå seksuelle overgreb.
Den bygger på flere vigtige risikofaktorer som asocial adfærd, en præference for upersonlig sex, at opfatte sex mere som en sport end som en del af et intimt forhold samt "fjendtlig maskulinitet", der f.eks. er en narcissistisk personlighed, fjendtlighed mod kvinder og et ønske om at have magt over kvinder.
Mændene i undersøgelsen var relativt vidende om tvang og sexhandel og om mange af årsagerne til, at kvinderne var prostituerede.
Forskerne screenede mere end 1.200 mænd for at finde frem til de to grupper af mænd, der var ens i alder, etnicitet og socioøkonomisk status. Mændene blev garanteret anonymitet og hver enkelt blev interviewet i omkring to timer.
Tags: aggression, vold, empati, prostitution