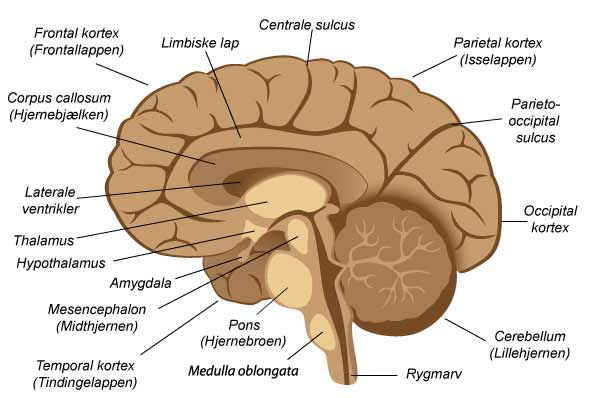 Elektrisk stimulering kan styrke selvkontrol
Nogle mennesker savner selvkontrol og fortæller f.eks. folk at de er grimme uden anledning, men det har amerikanske forskere måske fundet en løsning på.
Manglende selvkontrol kan være et socialt handicap - mest kendt fra ADHD og Tourettes syndrom, men også i mindre skala.
Ifølge en undersøgelse offentliggjort i The Journal of Neuroscience har forskere fra University of Texas Health Science Center i Houston og University of California, San Diego, opdaget at elektrisk stimulering af hjernen give bedre selvkontrol.
De mener, at deres resultater kan bruges i fremtidige behandlinger af ADHD og Tourettes syndrom og andre lidelser med manglende selvkontrol.
Forskernes resultater er baseret på fire deltagere med epilepsi, som skulle udføre en række adfærdsmæssige opgaver, der medførte de "bremsning" af hjernens aktivitet.
Forskerne opdagede her, at det var hjernens præfrontale cortex, der blev opbremset hos hver deltager.
Med korte elektrisk stimuleringer via elektroder placeret direkte på hjernens overflade, øgede en computer aktiviteten i hjernens præfrontale cortex hos hver patient når deres adfærdsmæssige hjerneaktivitet var langsommere.
Forskerne pointerer, at testene var en dobbelt-blind undersøgelse, hvpr hverken deltagerne eller forskere vidste , hvornår eller hvor de elektriske ladninger blev udløst.
De konstaterede at når den elektriske stimulation ramte andet end den præfrontale cortex, viste deltagerne ingen ændring i deres adfærd.
"Vores daglige liv er fuld af situationer, hvor man begrænse sig. For eksempel skal man holde op med at tale, når det er uhensigtsmæssigt i den sociale kontekst, og stoppe sig selv i at række ud efter mere slik.
Der er et kredsløb i hjernen til stoppe eller bremse reaktioner. Vi tror, ​​vi er de første, der har vist, at vi kan forbedre dette bremsesystem med hjernestimulation," siger Nitin Tandon fra Neurokirurgisk afdeling på UTHealth Medical School og undersøgelsens hovedforfatter.
Forskerne påpeger dog, at selv om deres resultater er lovende, så har de endnu ikke bevis for, at direkte elektrisk stimulation er effektiv til behandling af lidelser som emotionelt ustabil (borderline) personlighedsforstyrrelse, obsessiv-kompulsiv lidelse (OCD) og Tourettes syndrom.
Tags: Tourettes, OCD, tvangslidelser, elektrisk stimulering, præfrontale cortex