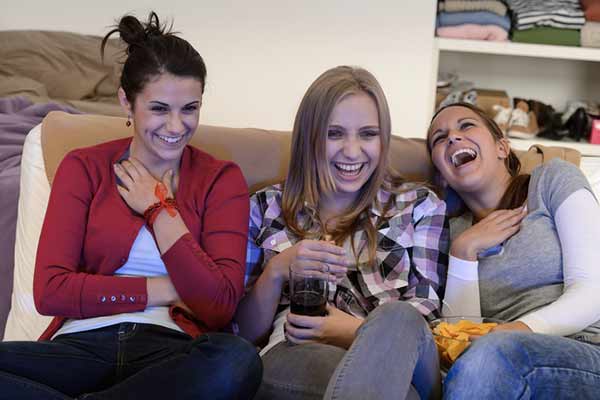 Lykke smitter, det gør depression ikke
Glade og lykkelige venner kan sikre at du undgår depression eller at din depression bliver mindre.
Det viser en ny undersøgelse fra University of Warwick, hvor forskerne konstaterer, at mens glæde smitter, så er der ingen tegn på at depression kan føres videre til ens nærmeste.
Resultaterne er baseret på en undersøgelse af hvordan teenagere på amerikanske gymnasier påvirkede hinandens humør.
"Depression er et stort helbredsproblem på verdensplan, men den gode nyhed er, at en god stemning mellem venner er forbundet med en betydeligt reduceret risiko for at udvikle og forværre depression," siger professor Frances Griffiths fra Warwick Medical School, der har fået undersøgelsen offentliggjort i tidsskriftet Proceedings of the Royal Society B.
"Vores resultater giver grundlag for at tro, at netværk mellem unge kan reducere både antal og alvorlighed af depressioner blandt teenagere."
De 2.000 amerikanske gymnasieelever blev klassificeret som enten at have depressive symptomer (dårligt humør) eller ikke at have tendens til depression (godt humør).
Forskerne konstaterede, at venner med et godt humør kan halvere sandsynligheden for at man udvikler depression eller fordoble sandsynligheden for at komme sig fra en depression over en 6-12 måneders periode.
Undersøgelsen tyder på, at unge, der har fem eller flere psykisk sunde venner har halvt så stor sandsynlighed for at blive deprimeret i forhold til unge uden venner med godt humør. Og teenagere, der har 10 raske venner har dobbelt så stor sandsynlighed for at komme sig fra depressive symptomer sammenlignet med unge med blot tre venner i godt humør.
"I forbindelse med depression, er dette en meget stor effekt. Ændring af risikoen med en faktor på to er usædvanligt," siger chefforsker Edward Hill.
"Vores resultater tyder på, at ethvert venskab mellem unge kan reducere depression, da deprimerede venner ikke smitter, mens venner med godt humør er både beskyttende og helbredende."
Undersøgelsen føjer sig til andre undersøgelser, der viser at sociale faktorer som at bo alene, mangel på social støtte eller at have nogen at snakke med har betydning for depression.
"Det tyder på, at et stærkere socialt netværk er en effektiv måde at behandle depression, så det kan være, at vi kunne reducere byrden af ​​depression gennem billige, sociale interventioner," siger forskerne, der understreger vigtigheden af at unge er medlem af ungdomsklubber, idrætsforeninger eller lignende.
Tags: depression, lykke