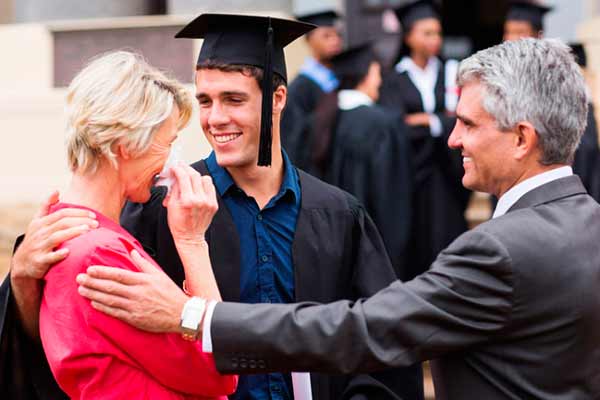 Glædestårer balancerer dine følelser
Glædestårer og nervøs latter er nogle mærkelige modreaktioner, der måske skal hindre at vi overtænder og kommer ud af kontrol.
Det antyder i hvert fald nye forsøg fra Yale University, hvor forskere har undersøgt hvordan vi reagerer på overvældende indtryk.
Glædestårer kan opstå hvis vi selv eller nogen vi elsker pludseligt får opfyldt en stor drøm. Hvis din datter kommer ind på hendes favorit-uddannelse, hvis I bliver gravide efter års forgæves forsøg eller hvis du bliver frikendt for en kræftsygdom.
Nervøs latter kan til gengæld være resultatet af at vi udsættes for ubehagelige situationer, som hvis vi beskyldes for at have løjet, at have såret andre eller gribes i utroskab.
"Det kan være en måde at genoprette en følelsesmæssig ligevægt," siger Yale psykolog Oriana Aragon, der er hovedforfatter på undersøgelsen, som  er offentliggjort i tidsskriftet Psychological Science.
"Glædestårer synes at opstå, når mennesker bliver overvældet af stærke positive følelser, og de synes at komme sig bedre over disse stærke følelser."
Aragon og hendes kolleger på Yale lod deltagere gennemgå en række forsøg, hvor de målte deres reaktioner på søde babyer eller genforeninger. 
De manipulerede fotografier af babyer, så nogle var sødere end andre - med større øjne, kinder og pande, og mindre næser, læber og kinder. Både mænd og kvindelige deltagere, der i gennemsnit var 30 år var som forventet mere positive over de sødere babyer. Deltagerne beskrev også deres følelser om babyerne: Jeg ønsker at holde det! Jeg ønsker at beskytte det! Jeg har lyst til at klemme dets kinder! Jeg kunne spise det! 
Resultaterne bekræftede forskernes forventninger om at deltagerne udtrykte mere trang til omsorg for de infantile, sødeste babyer mere end de ældre børn, og de konstateree også en større trang til at knibe og klemme de yngre babyer. Deres hypotese er, at klemmen og knurren og anden legende aggression er en måde at regulere overvældende positive følelser over for babyer - som hjælper folk til at klare deres intense følelser.
Selv om denne undersøgelse fokuserede på søde babyer, fandt forskerne også, at folk, der reagerer modsætningsfyldt i n situation også har tendens til at gøre et i andre. Det vil sige, at de mennesker, der fik lyst at knibe et spædbarns kinder også havde en tendens til at græde, når de genforenes med en elsket eller over et barns flotte eksamen.
De fandt, at personer, der udtrykker negative reaktioner på positive nyheder var i stand til hurtigere at komme til hægterne over intense følelser.
"Disse nye opdagelser begynde at forklare opførsel, som mange mennesker ikke engang selv forstår," siger Aragon.
"De fremmer vores forståelse af, at den måde folk udtrykker og kontrollerer deres følelser er vigtige for vores mentale og fysisk sundhed, kvaliteten af vore relationer med andre, ja, selv hvor godt folk arbejder sammen," siger hun.
Tags: latter, glæde, glædestårer, mental balance