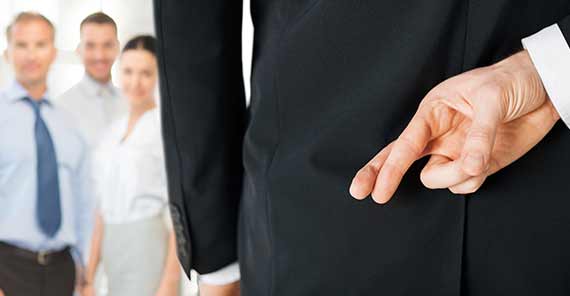 Vi lyver mere om eftermiddagen
En lang arbejdsdag kan ikke bare gøre din krop udmattet - også din moral bliver udmattet og får dig til at lyve mere om eftermiddagen og aftenen.
Det viser en ny undersøgelse, der er offentliggjort i Psychological Science, hvor forskere fra bl.a. Harvard University beskriver hvordan forsøgsdeltageres moral blev mere og mere flosset i løbet af dagen.
"Som forskere i etik har vi lavet adskillige forsøg, der har undersøgt forskellige aspekter af uetisk adfærd, som at lyve, stjæle og snyde," siger forskerne Maryam Kouchaki fra Harvard University og Isaac Smith fra University of Utahs David Eccles School of Business.
"I den forbindelse bemærkede vi, at eksperimenter om morgenen systematisk syntes at resultere i mindre uetisk adfærd."
Dette fik forskerne til at spekulere: Er det nemmere at modstå muligheden for at lyve, snyde, stjæle eller anden uetisk adfærd om morgenen end om eftermiddagen?
Da det er almindeligt kendt at selvkontrol bliver mindre med mangel på hvile og efter at have taget mange beslutninger, ønskede Kouchacki og Smith at undersøge, om normale aktiviteter i løbet af dagen ville være nok til at nedbryde selvkontrol og øge den uærlige adfærd.
I to eksperimenter blev 18-20 årige deltagere forevist forskellige prikkede mønstre på en computer. For hvert mønster, blev de bedt om at identificere, hvorvidt flere prikker blev vist i venstre eller højre side af skærmen.
Det lyder ikke særligt afslørende i forhold til uærlighed, før man får at vide, at de fik flest penge, hvis mønstret viste sig i den ene side.
De blev betalt 10 gange så meget for at vælge den højre i forhold til den venstre. Deltagerne havde derfor et økonomisk incitament til at påstå, der var flest prikker i højre side, selv om der var umiskendeligt flere i venstre side - altså et tilfælde af klar snyd.
I overensstemmelse med hypotesen var deltagerne, som blev testet kl. 8 om morgenen og kl. 12 mindre tilbøjelige til at snyde end deltagere, der blev testet mellem kl. 12 og 18. Forskerne kalder det "Morgen moral effekten".
Moral eller koral
De testede også deltagernes moralske bevidsthed om morgenen og eftermiddagen. Deltagerne blev præsenteret for delvise ordfragmenter som "_ _ RAL" og "E _ I _ _", hvor morgendeltagere var mere tilbøjelige til at danne ordene "moral" og "etisk".
Men eftermiddagsdeltagerne havde større tendens til at danne ordene "koral" og "elite", hvilket yderligere støttede "Morgen moral effekten".
Forskerne fandt det samme mønster, da de testede en stikprøve af online deltagere fra hele USA. Deltagerne viste sig mere tilbøjelige til at sende en uærlig besked til en virtuel partner eller at påstå, at de havde løst et - uløseligt - nummer-matching problem om eftermiddagen i forhold til om morgenen.
De konstaterede også at jo mindre moralske folk var i det hele taget, des mere sandsynligt var det at de snød både om morgenen og om aftenen, mens mennesker med et stærkt moralsk kompas hovedsageligt - hvis overhovedet - snød om aftenen.
"Desværre kan de mest ærlige mennesker være de letteste ofre for Morgen moral effekten," skriver forskerne.
"Vores resultater tyder på, at alene tidspunktet på dagen kan føre til en systematisk fejl i gode folks moralske handlinger."
Forskerne mener, at deres forskningsresultater kan have betydning for organisationer eller virksomheder, der forsøger at reducere uetisk adfærd.
"For eksempel bør organisationer være mere på vagt over for uetisk adfærd fra kunder eller medarbejdere om eftermiddagen end om morgenen."
Så uanset om du forsøger at styre dig selv, eller om du er forælder, lærer, butiksdetektiv eller chef for andre, der kan fristes til at lyve eller stjæle, så kan det måske bedst betale sig at være på vagt om eftermiddagen.